Below is the current list of supported currencies in Banktivity 8 & 9:
AUD Australian dollar
BGN Bulgarian lev
BRL Brazilian real
CAD Canadian dollar
CHF Swiss franc
CNY Chinese yuan renminbi
CZK Czech koruna
DKK Danish krone
EUR Euro
GBP Pound sterling
HKD Hong Kong dollar
HRK Croatian kuna
HUF Hungarian forint
IDR Indonesian rupiah
ILS Israeli shekel
INR Indian rupee
ISK Icelandic krona
JPY Japanese yen
KRW South Korean won
MXN Mexican peso
MYR Malaysian ringgit
NOK Norwegian krone
NZD New Zealand dollar
PHP Philippine peso
PLN Polish zloty
RON Romanian leu
RUB Russian rouble
SEK Swedish krona
SGD Singapore dollar
THB Thai baht
TRY Turkish lira
USD US dollar
ZAR South African rand
If your currency does not appear on the list above, here are the instructions for manually updating exchange rates:
1. Go to View> Go To> Currencies from the menubar
2. Click on the rate you would like to update as illustrated in the screenshot below:


3. Enter the exchange rate in the sheet that appears: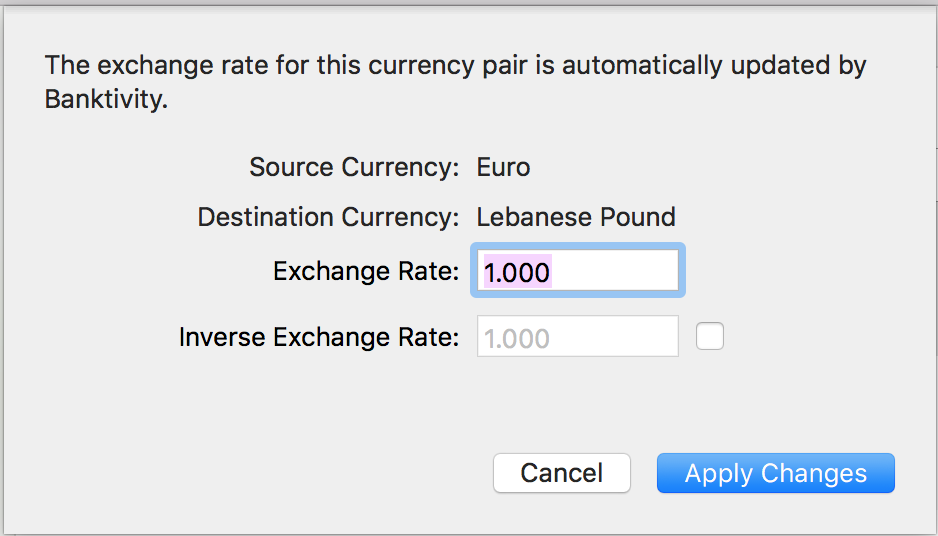 4. Click on Apply Changes
That's all there is to it!
In Banktivity for iOS:

– From the Summary Screen, tap on Configuration
– On the Manage screen, tap on Manage Currencies
– On the Currencies screen, scroll down to the currency you want to update and tap on the blue text
– In the popup window that appears, tap on the existing rate and delete the contents to enter the new exchange rate
– Tap Done when finished