How can a different mindset actually make me smarter financially?
By observation. Yes, that's right, it's that simple. By observing your mindset, you create the potential for change. Maybe you've heard this before in Quantum Theory. If you haven't, here it is in a nutshell: electrons behave differently  when they are observed (Observation Affects Reality)! I know what you're thinking here, we're talking smarter personal finances not quantum physics! But no worries, this really is simple stuff.
So let's jump right in. If you use a personal finance software, this first step is going to be super easy, and save you lots of time. Take a look at your spending for the last 3 months. If you don't use a personal finance software, you might try exporting the transactions for the last 90 days from your online bank account into a spreadsheet. It will take a little work, but if you add a category column, and fill in the purchase and income categories you'll have some intelligible data to use. Next, just make a pivot table with the categories as rows, and amounts summed and you have what you need. Do you see why we believe personal finance software is a real time saver?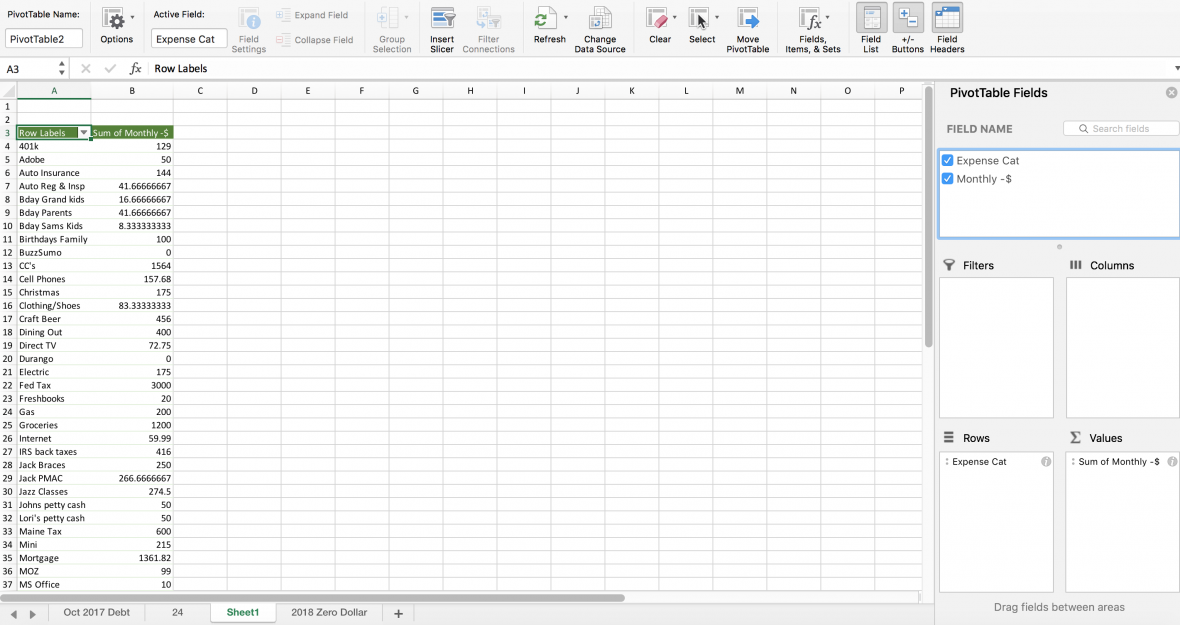 Either way, what we're going for here is a bird's eye view of how much money you made over the last 90 days, and where it went. While you do this exercise, think about any bills or expenses you couldn't tackle because of lack of funds. And if you put ANYTHING on credit cards during this period, well…
This simple exercise is a real eye opener and game changer.
Step 1: Become aware of spending choices
Do you see some category spending that is discretionary? Investopedia describes discretionary this way: "Discretionary income includes money spent on luxury items, vacations, and nonessential goods and services." In other words, money you have left over after the bills are paid. If you couldn't pay your self employment taxes or utilities bill on time, but managed to spend a whole lot on dining out at your favorite restaurant (ahem), then there is a problem. You've just found in reality what you've been considering free cash to spend is actually deficit spending!
Step 2: Making a commitment to better spending habits, using a zero-based budget.
A zero-based budget sounds like it might be complicated, but it's really quite easy. Sticking to it is where you'll test your moxy.
We've  already written a detailed article on zero-based budgeting, so here I'll keep it short and sweet. You budget every dollar in your checking account(s) available for spending, You prioritize your most important categories first (think shelter, food, etc. before new shoes). If you don't run out of dollars to distribute, you budget your "important but not critical" expenses next. An example would be, you have to pay your mortgage or rent or else… so that gets funded first. While you like your DirectTV subscription, that would not come before other must-haves like electricity. If you're close to already being pretty responsible, you'll even have some money left over for the fun stuff, like eating out at that favorite restaurant and other discretionary spending.
The key here is, if you're diligent and stick to the plan, you'll never get behind the proverbial eight ball. Good bye to the paycheck to paycheck stress and blues!
Step 3: You're sailing along, and kaboom!
Your car needs a major repair. Wait, that's not in the budget, what now? For many here's where they fall off the horse (unfortunately many don't get back on it until the next New Year's resolutions). Let's say this emergency with the car ended up costing you $600 "un-budgeted" dollars, but you've already earmarked other dollars in your "important but not critical" categories. Unlike when you were flying blind, you have actionable choices. By taking cash reserves from your entertainment, dining, clothes and other "discretionary"  categories for example, you avoid the "charge it" impulse. Hint: when you use the envelope budgeting system, this is super easy to do.
I know personally, when that set back moment comes, it is hard, real hard! After all, pulling out that Platinum Visa card is not only easy, most of us have a false association of gratification (like Wimpy's "I'll gladly pay you Tuesday for a hamburger today.") If you can stitch together a few victories like these in a row, not only will you disrupt the debt pattern and gain momentum to keep at it, but you begin to see new insights within your financial pictures. You start winning, and want to win more!
We've covered a lot here, so I'll leave you with this: every journey begins with a step, and the first step in becoming financially stable, is to create a new personal finance mindset that will without a doubt lead you to more happiness, and less stress!