Most people find the concept of envelope budgeting fairly intuitive. You put your money into various envelopes designated for various spending categories, like Rent, Groceries, Cell Phone, etc. When you spend from one of those categories, you take the money out of the appropriate envelope to cover the expense. This works if you have physical envelopes stuffed with cash, or if you a use a personal finance software like Banktivity to manage "virtual envelopes" for you. That's a super quick refresher on the basics of envelope budgeting. If you are new to envelope budgeting, take out a look at this great resource we've put together that covers the concepts with some additional detail.
So like I said, envelope budgeting is fairly intuitive, but when you apply it to some real world financial situations it's pretty common for some questions to come up. For example, what if you have loans with interest, how do you set up envelopes for that. Or, what if your paycheck has automatic deductions to savings or retirement accounts? Or what if you don't get a regular paycheck, but instead get paid larger amounts at erratic intervals (I'm looking at you freelancers and small business owners!)
In today's post we are going to cover some of these more complex and also pretty common situations when envelope budgeting.
Handling Splits In Your Paycheck
Since envelope budgeting is about the money you have right now and deciding what to do with the money you are paid, let's start with a paycheck. Many people think of their paycheck as one number – the amount that shows up (usually via direct deposit) in their checking or savings account. But for most jobs, at least if you have a have a job where you get a W2, there are other important numbers in your paycheck, like federal withholding, social security and medical deductions and sometimes, automatic transfers to some of your other accounts, like a 401k or savings account.
To track all of the components in a paycheck you need to "split" the transaction in Banktivity. Since we don't readily have access to the federal withholdings, social security and medical deductions in an envelope budget, I'm going to run through an example of how to track money you have automatically transferred to a savings or retirement account.
Let's say you have automatic transfers from your paycheck to a savings account for $100 and retirement account for $200. You would record a transaction like this in Banktivity:

Since the $100 and $200 are part of your budget, they represent a saving priority. So let's discuss the proper way to handle this in an envelope budget. First, since you plan on moving money *to* these accounts, we will want to exclude them from the budget. This tells the app that when I move money to these accounts I want to think of it as an expense, in that it will decrease the amount of money I have for other things.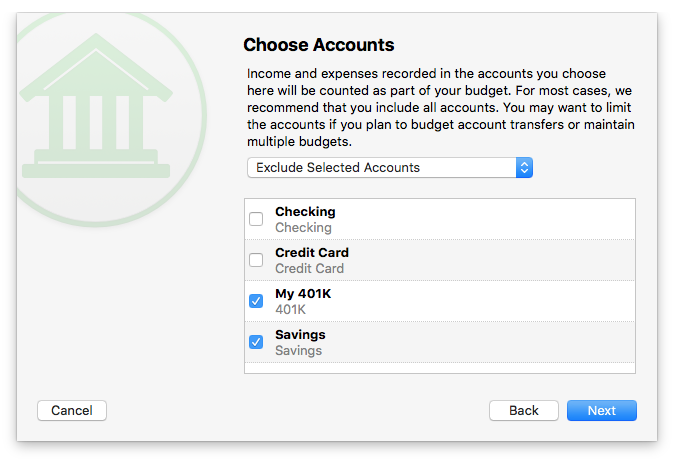 Now when you get paid and you record the split transaction either manually (or you could post it via a scheduled transaction) your envelope budget will show -100 in your Savings Account envelope and -200 in your 401k envelope. As expected, your Salary envelope will show $2,000. You'll want transfer $100 and $200 to your Savings and 401k envelopes, respectively. Now you have funded your Savings and 401k and you're left with a net amount of $1,700. Perfect!
So this is all great and works as expected, but what happens when some spending activity results in us needing some of that $100 we put in to Savings. Yes, it was planned for long term savings, but things happen, emergencies happen, sh!t happens. Whatever the reason, you need that money. So you log in to your Savings account and do a transfer to your Checking account. Since you are a dedicated Banktivity user you enter a transaction like this that represents the transfer:
Now, when you go to your budget, you'll see $50 available in your Savings envelope. You can then transfer this to whatever envelope is appropriate.
Envelope Budgeting With Loans
Loans and other debt instruments, for better or for worse, are a part of life for almost all adult Americans. There are school and car loans, mortgages and home equity line of credits, just to name a few. (I'm not even going to cover revolving credit area like credit cards as they are another beast in and of themselves.) For budgeting we think of the loan as having some minimum monthly payment. For example, you might have a mortgage that has $1200 minimum monthly payment.
From a budgeting perspective it is very simple, you need to make sure you have $1200 each month to pay the mortgage. But many of you probably know that when you make that mortgage payment only part of it goes to the principal amount of the loan and the rest goes to the interest and any other payments like PMI, insurance or property taxes. For the example we are going to work through let's assume your loan can be broken into two parts, principal and interest. On a month to month basis I don't really care how much goes to each part (it is a 30 year mortgage after all!) I just need to come up with the $1200. However, at a larger time scale I would like to know how much principal is remaining on my loan and for tax time, I'd like to know how much I've paid in interest. In Banktivity, it is possible to have the best of both worlds: for budgeting you only have to worry about $1200, but you can also track principal and interest separately. Here is how to do it:
First get your loan set up in Banktivity. Here is an example of a simple mortgage: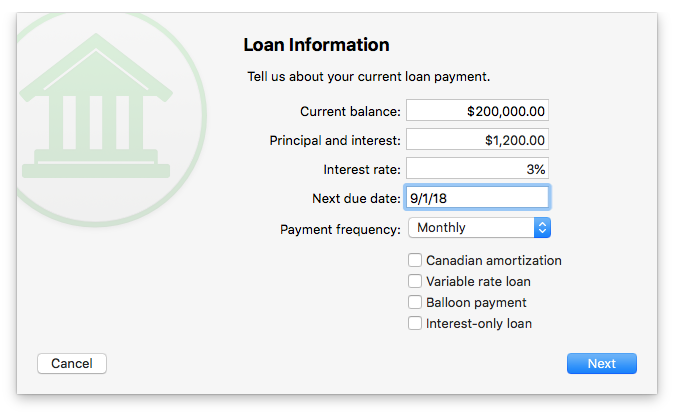 You tell Banktivity about the remaining principal, interest rate and your total monthly payment; the app will calculate the interest and principal automatically for you. On the last screen of the budget setup assistant it, Banktivity gives you the option to schedule interest and fees separately. You definitely want to check this box if you want to budget for this loan as one lump sum. When you check this box, Banktivity will actually make two scheduled transactions behind the scenes for you, one for the total amount of the monthly payment. This scheduled transaction is setup as a simple transfer from the account you plan to pay from to the loan account. Then, there is another scheduled transaction setup that posts to the loan account that is for your interest, PMI, insurance, etc. When you post the first scheduled transaction all of the amount is applied to the principal of the loan (you might be thinking this is incorrect, but don't worry, the next transaction brings everything back into balance). Then when you post the second transaction it will correctly adjust the principal balance of the loan and track interest and any other splits.
Every month when you make your mortgage payment you'll post both of these transactions from the Confirm Scheduled Transactions sheet. When you look at your budget, you'll see one transaction for the total amount – this is the amount you'll want to transfer your envelope dollars into each month.
As many of you know, I'm a big proponent of envelope budgeting, but I also like to keep fairly meticulous financial records. With Banktivity you can have the best of both worlds: a real-world zero-based envelope budget and records that accurately track interest and transfers directly from paychecks.
Do you like envelope budgeting with Banktivity? Do you have any questions about best practices? If so, let us know in the comments.