I'm a huge advocate of envelope budgeting. It's a time-tested method at making sure you don't spend more than you have.  But envelope budgeting is more than that; it's also a practical and philosophical money management strategy. It forces you to look at the money you have right now and decide how you should spend it, or importantly, save it. But sometimes it's easy to get a little lost and over complicate your envelope budget with the accounts you have in real life, like your checking, savings and credit card accounts. When this happens you can end up putting your cash, sometimes pretty significant amounts, in low, or even zero interest accounts. For number geeks like us, that is no good, you always want your money working for you, no matter what type of budgeting method you implement.
Here's an example how people commonly get tripped up when using an envelope budget with transfers. Many people have learned that one of the best ways to save money is to transfer money to your savings account directly from your paycheck. The idea being, if you never "see it" you can't spend it. This is a good strategy, but I'll be honest, it kinda defeats the purpose of envelope budgeting. With envelope budgeting every dollar is supposed to be a part of the plan. Is the money you automatically transfer to your savings for an emergency fund, or are you saving for vacation or will you just use it later in the month to cover rent or groceries?
Here's another example: are you one of those people that transfers extra money to your savings account when you think you can afford it, but then inevitably transfer some of it back to your checking account when it is time to pay a larger than expected credit card balance? Or maybe you have three different savings accounts and you transfer money to different savings accounts for different things, like one is for vacation, another is for your emergency fund and the third for miscellaneous expenses. Doing all of those transfers gets confusing and again, in the framework of envelope budgeting, what are those transfers for, and to which part of your plan and priorities do they belong?
With envelope budgeting we actually completely decouple your budget from your real-life accounts (checking, savings, credit cards, etc.) If you want to put money aside for an emergency fund (and you should being doing this) you'll want to have an envelope called "emergency fund." If you are saving for a vacation, have an envelope for it. How fine-grained you want to get with your envelope categories is a personal choice. I do see that people that try to get too detailed end up shuffling money between envelopes very frequently and I'm not sure it gives them a better sense of their finances at the end of the day. So I'd say it is good to have an envelope for "Vacation," but I'm not sure you want one for "Trip in 3 weeks to visit dad" and another for "Summer trip to Yellowstone" and yet another for "Weekend getaway to the coast" – that level of detail is probably too much for most of us.
With envelope budgeting, the actual dollars saved for each of those categories can be in any of your real-life accounts. There could be $500 in your checking and $250 in your savings, what matters is that you have $750 in the envelope. This is what I mean by decoupling your budget from the amount in your accounts. When you fully embrace envelope budgeting, you only ever need to look at your account balances when paying a large bill from one of the accounts. For the day-in and day-out management of your finances, you only need to look at your envelope balances. They tell you what you can and cannot spend, or what you have saved.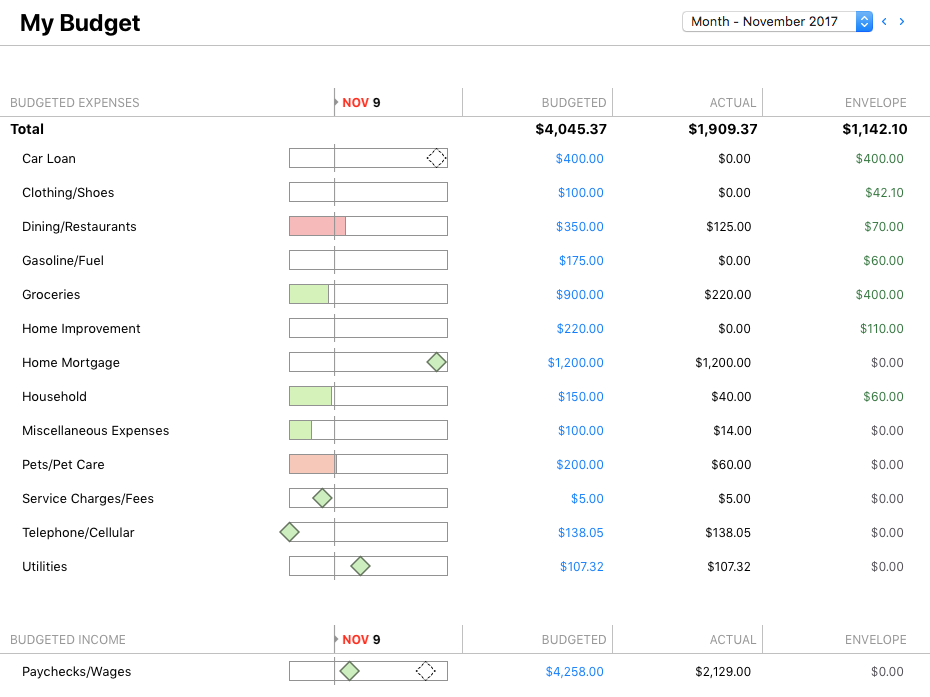 Opportunities to Save
But there is an opportunity here. Many people have a high-interest savings account, like from Ally. If you don't have one you might want to consider opening one (and no, we don't get a kickback from Ally for recommending them). If you have a large amount of cash you're saving in your envelopes, it makes sense to maximize your use of one of these accounts for the cash you won't need immediately. Even if at the time of writing these "high interest" savings account are only yielding about 1.5%, it is still free money you should be taking advantage of. It can help with the fight against inflation too.
Here is an example. Let's say you have $10,000 saved up for your emergency fund and every month you are putting money into an envelope to cover your property taxes, which you pay once a year. For this example, let's say your property taxes are $5,000 a year. If we just used the savings account for the emergency fund it would have a balance of $10,000. But if we also keep the money that we are saving for property taxes in the savings account then it can have up to $15,000 in it. If you apply this same strategy with the money you are saving for your vacation, new car fund, or whatever, then you can really make that cash work for you.
Let's work some numbers for a scenario like this. We will assume you'll keep money in your high interest savings account for just one year and we will assume the interest rate won't change from 1.5%.
Just Emergency Fund Example
If you maintain a balance just based on your emergency fund of $10,000 then after a year you'll have earned a $150, not bad. It's $150 you wouldn't have had otherwise if you left it in a non-interest earning account.
Emergency Fund + Property Taxes Example
If you maintain an average balance of $12,500 over the course of a year (we are simplifying this since you will be contributing money monthly, then paying your property taxes once a year and effectively bringing the account balance back down to your base starting point) you'll end up making a $188 in interest. This is a 25% increase (because $12,500 is 25% more than $10,000). Without doing so much as a few mouse clicks to put some of my less used envelope balances into a high-interest savings account I get an extra $188 a year.
My guess is that some savvy readers are wondering, is there something else we could do with the cash that might earn more than a paltry 1.5%? What about bonds or even invest it in an index fund? Best practice is to not put money into the market if you think you might need that money in the next five years. So that pretty much rules out all of the things I'm saving for on a monthly basis. I only put money into the market when I know I can leave it there for a long time.
Envelope budgeting is about having a plan for the money you have right now and prioritizing how you want to spend your money. But that doesn't mean you can't take advantage of high interest savings accounts to keep that cash working for you. To make sure I'm taking full advantage of my high-interest savings account, every month I review my envelope balances and my account balances and decide how much I can transfer over to the savings account. When I end up having to pay a big bill, like property taxes, I move the money from the savings account to the checking account and pay the bill. This keeps my cash working for me while keeping it easily accessible. And I don't know about you, but I'll take any extra bit earned on interest because it's less I have to save to take that next vacation, whether it's to Yellowstone or the coast.